Emotion Collection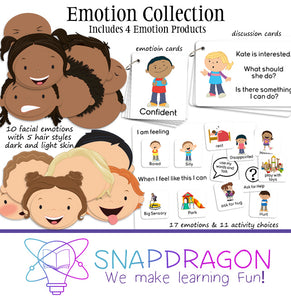 SALE
Emotion Collection is designed to teach children to recognize their emotions, the emotions of others along with self regulation and teaching empathy.
Please select from drop down menu if you would like the Light Skin, Dark Skin or both.
This Emotion Collection has everything you need to help your child learn about their feelings, the feelings of others, what do do when they feel a certain way and discussion cards to learn how to empathize with others.  Included with this collection is a Show Your Emotion set which your child can use to show you how they feel or practice showing you different emotions.  This Collection also comes with a dry erase marker so your child could also draw their own faces.
Emotion Cards - These can be used to help teach your child what each emotion looks like or used for your child to communicate to you how they are feeling.  Emotions include: Happy, Confused, Interested, Satisfied, Silly, Surprised, Angry, Sad, Jealous, Sick, Frightened, Disgusted, Embarrassed, Hurt, Confident, Disappointed, Bored, Anxious.
Emotion Discussion Cards - These cards are designed to encourage communication about various emotions children see in others. With the use of this product children will begin to develop a sense of empathy for others.  15 cards include the following feelings: Frightened, Happy, Confused, Sick, Embarrassed, Bored, Angry, Disappointed, Anxious, Sad, Surprised, Interested, Jealous, Silly, Hurt. 
When I feel...I can - Your child can use this board to practice what they can do with their Emotions. Develop self regulation & problem solving.  This product can also be used as a communication and teaching tool for you to visually show your child what they can do with their current emotions.  All emotions shown in the Emotion Card set are included here with a velcro backing.  Options included for the I can... part are as follows - Play with toys, Park, Fidget toys, Big sensory, Snapdragon busy bags/binder, rest, stop/breathe, ask for help, use my words and talk, ask for a hug, Blank card included to add your own if needed. 

Show your emotion - Available in Light or Dark skin tones. Each pack comes with 5 different blank heads with a variety of hair styles. Includes the following facial emotions: Angry, Embarrassed, Frustrated, Happy, Thinking/Confused, Sad, Sick, Silly, Worry, Tired.

Targeted Skills: Self regulation, understanding of emotions, empathy, recognizing emotions, expressing emotions.
--------------------------
Each item is printed on cardstock & laminated, velcro is applied where needed and a dry erase marker is supplied for products that require one. Should you have any questions please use the Contact Me page to send me an email. I will reply back within 24 business hours.
Image credit - Kari Bolt