Grocery Shopping Collection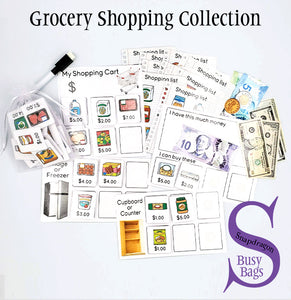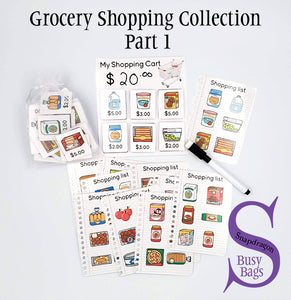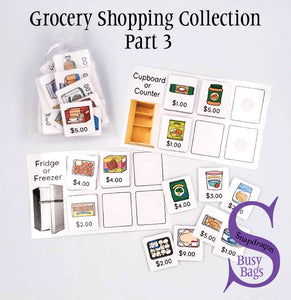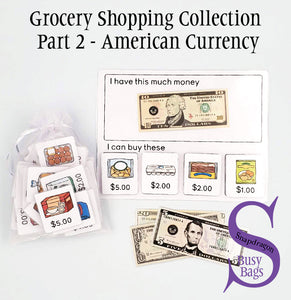 The Grocery Shopping Collection is designed with 3 main learning parts.
1 - Shopping Cart
2 - Money
3 - Put away the groceries
Shopping Cart - Children will shop for the items on their shopping list.  Older children can use the dry erase marker to add up what their total cost is.
Money -  Using the I have this much money base card place any combination of money in the upper section and from your grocery store items select 4 items that can be purchased with the money you have.  This can be each individual item under the set amount or for older children the total amount has to be under.  Please select if you need the Canadian or the American Currency (Canadian Currency will be sent if you do not make a selection).
Put away the groceries - this is a sorting activity where children sort out if each item goes in the Fridge/Freezer or the Cupboard/Counter.
Included: Shopping Cart base, 12 grocery shopping lists, 50 food items, Money base card, Canadian OR American Currency, Cupboard/Counter base card, Fridge/Freezer base card, 1 dry erase marker

---------------------------------------------------
Teachers - there is a small group table top set available in the Teacher Tools category.  Grocery Shopping Collection - Teacher Tools