Insect Kinder Packs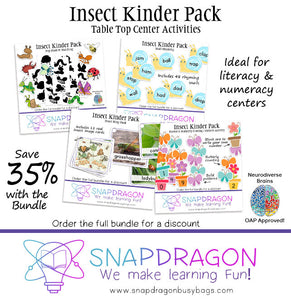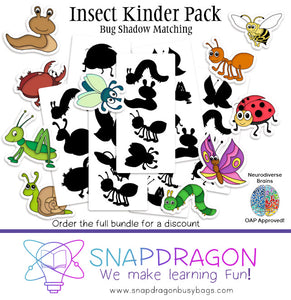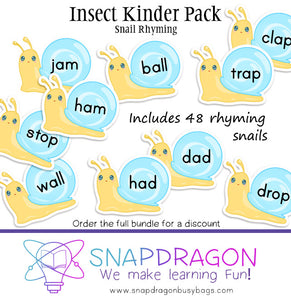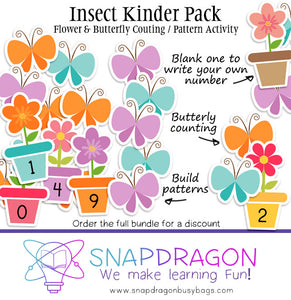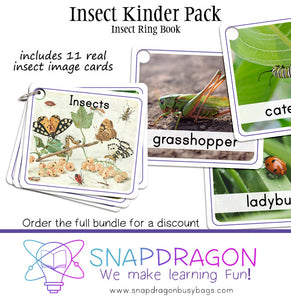 These Insect themed packs are designed with the Kindergartener child in mind. Ideal for both JK and SK as they cover both beginner and advanced levels.  
Perfect for literacy and numeracy table top centers.  Can be used in groups as well as individual learning situations.
Purchase one or two packs individually or buy the full bundle (all 4 packs) for a discount.
1. Bug Shadow Matching
This pack is great for developing visual discernment and image matching by shape. Students will place close attention to the details on the shadow cards and locate the correct bugs that match.  Placing them in the same order as indicated on the card.
2. Snail Rhyming
This literacy pack is designed with SK students in mind but some more advanced JKs will be able to make some matches.  Mixing up the sails on the table students will pair up the snails that Rhyme.  There is only one match for each snail.  For a more advanced way turn them over like the memory game and take turns flipping them over to try and find the rhyming match.
3. Insect Ring Book
Using real images with clear typed words help students to connect the insects to the ones in their environment.  This ring book is a great addition to the literacy center for word recognition and printing practice.  Students can also use this to draw the picture and take it outside with you to help identify different insects.
4. Flower & Butterfly Counting/Pattern
This butterfly themed pack is a great addition to your numeracy center and has multiple ways to play.  For counting and number recognition have students place the correct number of butterflies indicated on each flower.  They can also use the flowers to place them in numerical order.  This pack includes numbers from 0-10 along with a blank one so students can also write their own number on the flower pot.  For patterning you can use 54 butterflies to create a number of different patterns.  
--------------------------
Product is printed on thick card stock and laminated for durability and easy cleaning. Should you have any questions please use the Contact Me page to send me an email. I will reply back within 24 business hours.