Reading Packs - Grade 1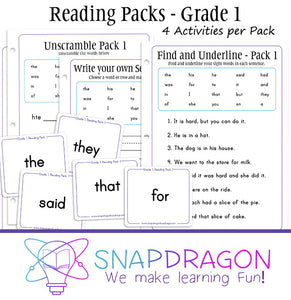 Each Pack $22 - Full collection $97 (valued at $132)
Grade 1 reading packs each have 4 different activities in them.  Each pack gets harder and harder with the first being a review of Kindergarten words (see word lists below).  Snapdragon Reading Packs are idea for at home use over the summer from Kindergarten to grade 1 as practice and preparation.  As well as from grade 1 to grade 2 as a review.  Teachers can use the full collection as table top activity centers for groups up to 6. 
20 Word cards per pack - use as reading flash cards, or to practice spelling.

Find and Underline - help strengthen sight words by finding and underlining each word in the provided sentences.
Write your own Sentence - use the dry erase marker to write out make their own sentences using the sight word list.  Challenge them to use as many words as they can.
Unscramble - this is a great way to help children practice correct spelling. A full list of the words is printed at the top of the page.
Word lists
Pack 1 - the, for, he, but, that, you, to, in, a, of, his, it, was, I, on, said, had, she, and, they.
Pack 2 - at, we, up, little, is, him, some, all, be, her, out, look, have, there, am, as, down, go, with, then.
Pack 3 - one, so, my, what, this, when, them, see, me, can, like, get, did, will, could, yes, do, would, not, were.
Pack 4 - come, into, long, your, if, big, came, blue, went, its, now, just, very, red, ask, no, ride, an, over, are.
Pack 5 - know, right, every, put, green, about, jump, take, don't, any, four, from, pretty, day, how, around, too, good, got, want.
Pack 6 - help, five, here, ran, after, going, call, well, six, old, their, let, saw, away, yellow, brown, by, sleep, make, think.
--------------------------
All of Snapdragon products are shipped ready to use. Each item is laminated, velcro is applied where needed and a dry erase marker is supplied for products that require one. Should you have any questions please use the Contact Me page to send me an email. I will reply back within 24 business hours.