Routine Calendar Bundle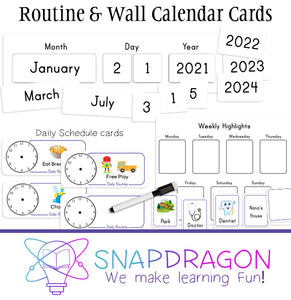 Snapdragon's Routine Calendar Bundle is designed to be put up on the wall or fridge.

Date strip -  Includes Month, date numbers, and year (2021-2024)
Daily Schedule Cards - 13 time cards with daily activities on them plus one blank one, select the ones you need for that day and use the dry erase marker to indicate the time on the clock.  This can be customized if desired. Daily schedule cards include - 1. Breakfast 2. Brush teeth 3. Get dressed 4. Make your bed  5. Take a bath 6. Put on Pajamas 7. Bed time 8. Eat lunch 9. Snack time 10. Chores 11. Free play  12. Quiet time  13. Eat Dinner  14. Blank
Weekly Highlights -  This chart helps children understand what important activity is happening on what day.  Includes 12 activities + one blank one.  This can be customized if desired.  Activities included - 1. doctor 2. dentist 3. hike 4. beach 5. park 6. playdate 7. school 8. sleepover 9. shopping 10. party 11. vacation 12. sports 13. Blank
Note: If you would like customized products please indicate during check out in the Notes to Seller section, or use the contact me section of the website and send me your customized list.  If no customization is sent within 24 hours of purchase you will receive the standard items listed. 
--------------------------
All of Snapdragon products are shipped ready to use. Each item is laminated, velcro is applied where needed and a dry erase marker is supplied for products that require one. Should you have any questions please use the Contact Me page to send me an email. I will reply back within 24 business hours.