Word Families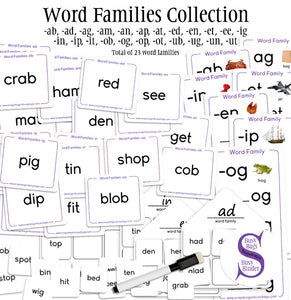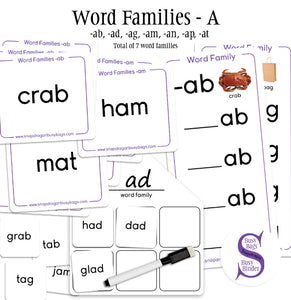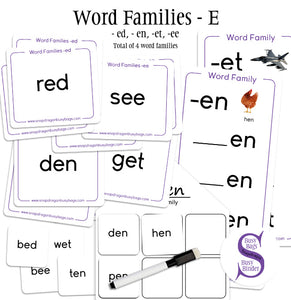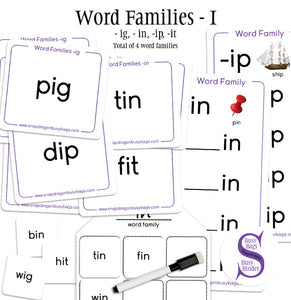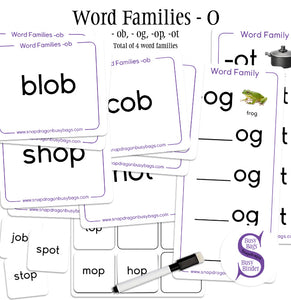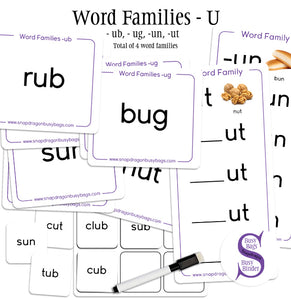 Full collection $135 - valued at $150
Three different learning activities for each Word Family.  Each bundle is broken down into the main vowel (see previews for what's included in each)  Total of 23 word families.
Word Family Cards - each word in the word family has it's own card. 
Word Family fill in blank - write out words that belong to that word family.
Word Family House - write the word family on the top and match up the correct words for that word family.
Word Family - A includes 7 word families -ab, -ad, -ag, -am, -an, -ap, -at
Word Family - E includes 4 word families -ed, -en, -et, -ee
Word Family - I includes 4 word families -ig, -in, -ip, -it
Word Family - O includes 4 word families -ob, -og, -op, -ot
Word Family - U includes 4 word families -ub, -ug, -un, -ut

Knowledge of word families helps children build vocabulary. Instead of memorizing spellings and meanings of all words, they learn how to spot patterns, identify root words, and understand their common meanings or sounds. This helps in word recognition leading to the development of their reading fluency.
--------------------------
All of Snapdragon products are shipped ready to use. Each item is laminated, velcro is applied where needed and a dry erase marker is supplied for products that require one. Should you have any questions please use the Contact Me page to send me an email. I will reply back within 24 business hours.